Politics

/

StudentNation

/
November 20, 2023
After backlash from pro-Israel organizations, Santa Ana's ethnic studies courses discussing Palestine were put on hold. "You're asking us to erase a people off the face of the earth."
Raija Hammad's eyes wandered across her Santa Ana classroom. As one of the only Palestinian American students, she was hopeful for her high school history class's plans to discuss the place her community had called home for generations. But as she waited for her teacher to wade into the deep history of the Middle Eastern region, she was left feeling isolated during the handful of surface level discussions. "Everybody was scared of making people uncomfortable," the 18-year-old, who graduated this summer, remembers. "Which is upsetting, because it's an uncomfortable subject, [but] there's no way around it."
In April, the Santa Ana Unified School District began to address that discomfort. In accordance with California's impending 2029–30 ethnic studies graduation requirement law—the first of its kind in the country—the school board approved two world history and geography ethnic studies courses that offered insight on the forced displacement that led Palestinian families to call Orange County, and its landmark Little Arabia, home.
But that hope was dashed as soon as news broke out of the district's plans. The local Jewish Federation of OC said the curricula "framed Jews as colonizers" and contained inaccurate material, claiming the class violated anti-bias guardrails in the state's ethnic studies requirement law. Pro-Israel Jewish activists at a subsequent meeting said the courses were one-sided and smeared the curriculum with divisive attacks that only took a simple search through the approved frameworks to disprove.
What followed, after a relatively quiet summer, thrust the district onto the stage of international politics. By September, leading state officials had emboldened the Anti-Defamation League, StandWithUs, and other advocacy groups to announce a lawsuit accusing Santa Ana Unified of developing the disputed ethnic studies courses in "secrecy." The critics gave little weight to the curriculum resources on anti-Jewish pogroms in Russia or the discussions of how German colonialism and Nazi racial science were intertwined. And when it came to Israel-Palestine, they paid no attention to the fact that the materials presented competing narratives on the events abroad.
"[They're] essentially saying that a Palestinian in Orange County—by being able to recount their families' forced removal or the generational trauma that they felt when they talk about their history—is problematic," Amin Nash, a policy and research coordinator at the local Arab American Civic Council, told The Nation.
Santa Ana Unified, a predominantly Latino school district, sits miles away from one of the largest Arab American enclaves in the country. Little Arabia, as it's now known, was once called Little Gaza—making it hard to deny the role Palestinians have played in OC. "You can't really do that to the students," Nash says, "[or to] the community in general."
Current Issue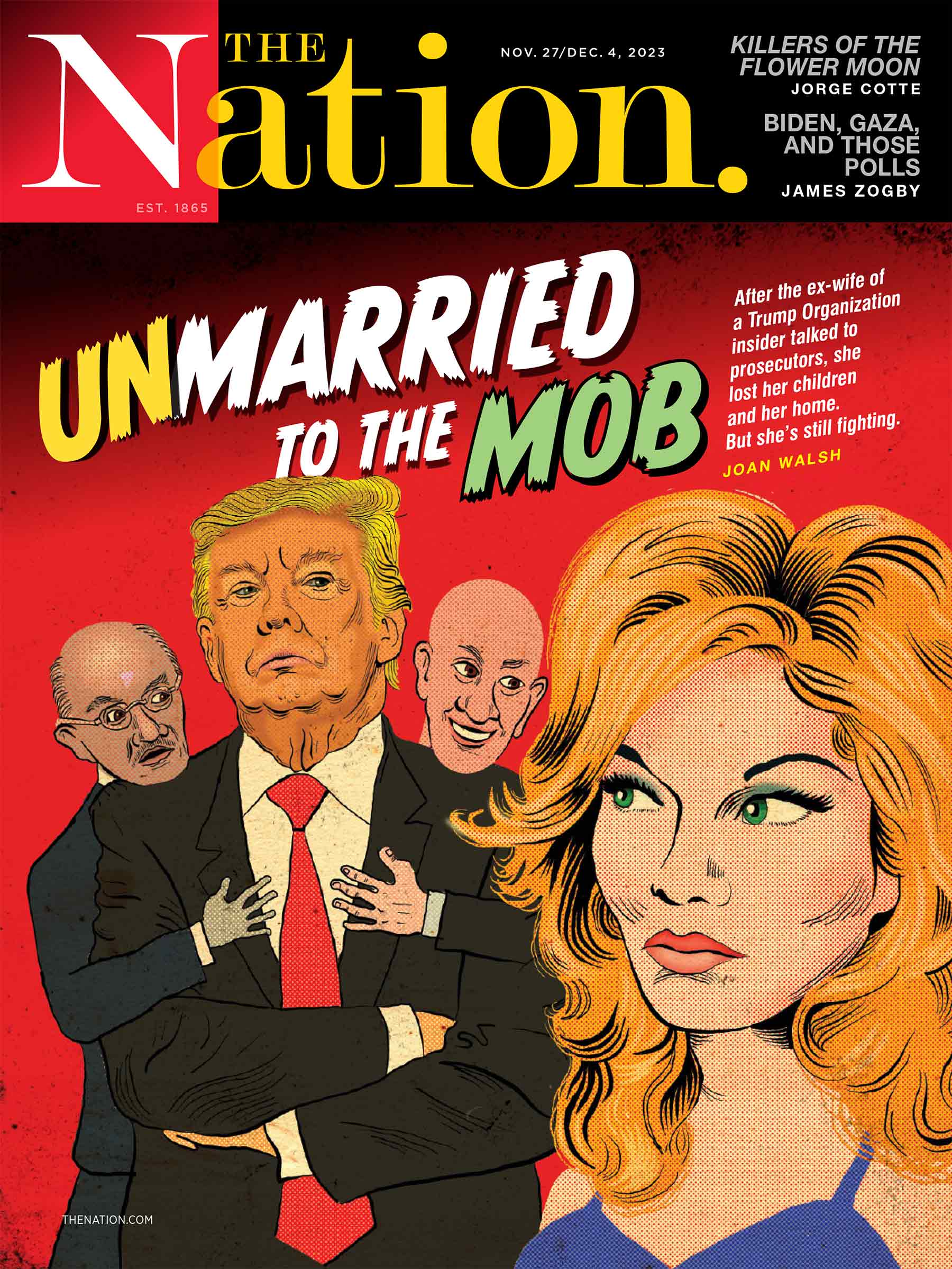 Pro-Israel organizations are now playing a key role in defining which ethnic studies courses across the state will be allowed, vowing to work with their own lawyers and the state attorney general to hold the districts whose curriculum they deem discriminatory accountable.
In the last year, State Superintendent Tony Thurmond vaguely called out a "small minority of individuals," for violating the bias guardrails, alongside pro-Israel lawmakers and activists at the CDE's August webinar, titled "Education to End Hate: Countering Antisemitism." He didn't delve into specifics, but his concerns came directly after lawmakers on the panel discussed local school districts that had allegedly broken state law.
Santa Ana's approved ethnic studies courses have since been put on hold, despite their scheduled implementation for the 2024–25 school year. JFED OC and the CDE did not respond to a list of written questions asking for comment, and an ADL spokesperson referred The Nation to its lawsuit brief.
Unsurprisingly, Sacramento's assessment that California's progressive school districts are increasingly out of control, radical, and hateful fails to tell the whole story. The state, in its subtle attempts to silence these districts, appears to be recreating its own form of institutionalized anti-Palestinian discrimination. Supporters of the disputed courses say it has made it much more difficult for districts to even discuss Palestinian oppression in their classrooms, regardless of their approach.
In Santa Ana, and across the country, this erasure of Palestine comes at a time of crisis: international agencies warning of a genocide against Palestinians in Gaza, a widespread doxxing of Pro-Palestine organizers, the censure of Rashida Tlaib—the only Palestinian American in Congress—and a Senate bill that condemned protests led by groups like Students for Justice in Palestine. Combined with Governor Gavin Newsom's increasing distance from California progressives amid his alleged aspirations for the presidency, the ethnic studies debate has placed him in a bind as he otherwise opposes book bans and censorship across the state.
Whether in the classroom or in a legislative body, "what does it mean if we're not recognizing Palestine as a place?" asked Heba Gowayed, a professor of sociology at Boston University. Do we "really need to be thinking about Palestine only in relation to what Israel says are its politics?"
Popular
"swipe left below to view more authors"Swipe →
In California, the ethnic studies scholars and activists backing these disputed courses argue that the state, rather than providing clear guidance for what's off-limits in high school classes, is giving ammunition to outside groups who seek to stifle conversation about Palestinians in K-12 ethnic studies. By not defining what bias in ethnic studies actually looks like when it comes to difficult conversations about colonialism, apartheid, and state-sanctioned violence, progressive school districts are left to choose between highlighting the perspectives of their local Arab American communities or facing the courts.
"You can't pick and choose who to exclude," Bruce Fuller, professor of education and public policy at UC Berkeley, told The Nation. "It seems like the governor has to take a principled stance and include the Palestinians or admit that he's taking a more politically motivated stance." Asked to respond to concerns from advocates, a spokesperson for Newsom pointed to his 2021 statement signing the requirement into law.
Newsom, though, has a history of neglecting Palestine. When the California Department of Education released a draft curriculum for high school ethnic studies classes in 2019—a curriculum that had mentions of BDS and activists like Linda Sarsour— it drew a wave of conservative and moderate backlash that mirrors the criticism in Santa Ana. The CDE and the governor were excoriated with concerns about indoctrination, exclusion of several other California ethnic groups, and anti-Semitism. Newsom was definitely listening. The draft "will never see the light of day." he told J. Weekly at the time. "It was offensive in so many ways."
The model curriculum was rewritten in a move that mirrored the College Board's watering down of AP African American studies, and exploration of Palestine was now nowhere to be found. All of the authors of the original text denounced the final version for abandoning what ethnic studies has historically been: a structural analysis of the experiences of people of color, where students can debate and discuss ways to make positive change. The final revisions went so far, the authors said, that they risked watering down key academic skills. When the law mandating the requirement finally passed in 2021, it warned districts that chose to develop their own curriculum that courses must not echo the unadopted previous draft or "directly or indirectly" reflect or promote "bias, bigotry, or discrimination," a move pro-Israel groups claimed as a victory. 
The final statewide ethnic studies guidance also chastised college level ethnic studies courses for being taught through a political lens, urging educators to teach "multiple perspectives." But the rollout of these courses across districts like those in Santa Ana bolsters the argument that Palestinians and ethnic studies scholars have been making: How can you avoid politics when talking about oppression?
"It's kind of in our blood almost to be activists because of what's been occurring for decades," Hammad said of her community. "To know Palestinians is to know bravery." While a few districts out of hundreds are under fire, educator-activists warn that the ripple effect will be dramatic as public records requests, articles, and further scrutiny floods communities attempting to represent themselves in the curriculum–and that Palestine won't be the end.
"When you choose to attack any one of us, we're going to say, 'Hmm why Palestine? Why are you doing this?'" Theresa Montaño, a leader of the Liberated Ethnic Studies Model Curriculum Consortium in California and a professor of Chicano/a studies at Cal State Northridge, told The Nation. Her coalition's strategy has been to market its curriculum—which encourages students to challenge stereotypes and seek to understand where they come from—to local school districts who can approve their own courses, separate from the state guidance. The liberated ethnic studies curriculum includes lessons about race and ethnicity—from the personal to systemic—social movements that pushed for radical change, like the East LA walkouts, and debates over organizing demands.
Unsurprisingly, on the local level, the coalition's approach has run into hurdles. Pro-Israel Jewish groups—some of them based on the East Coast—have slammed districts in Mountain View, Hayward, San Mateo and Castro Valley with accusations of anti-Semitism when word spreads they could be contracting with the consortium–even when that's not actually the case. That barrage of negative news articles and public records requests is taking its toll on several of the educators, predominantly people of color. "We would get these requests, like, 'We really want you to come and work with us,' and then we would meet with them, we would do these wonderful presentations," said Montaño, an original author on the disavowed state curriculum. "And then it would be crickets, we wouldn't hear anything."
But the "liberated" approach has now morphed into a weaponized catchall phrase for districts like Santa Ana, despite the fact that Montaño's group hasn't contracted with the district at all. She takes issue with a blanket letter sent out in late August by Brooks Allen, Newsom's education policy adviser, to every school district in the state, stressing the guardrail language while cautioning that they have "been informed" that "certain vendors" may not meet state law. That came on the heels of a June statement from the Jewish Public Affairs Committee calling out Santa Ana for violating the bias guardrails.
Already, educators and scholars are reporting that they're being inundated with public records act requests, harassment, doxxing, and racist attacks across the state, in what Mark Kleiman, a whistleblower and human rights lawyer representing the liberated ethnic studies educator-activists, called the "early stages of McCarthy's politics in California."
"You've got the state now using whatever coercive powers it thinks it can muster to lean on the school districts and frighten them about this," said Kleiman. In Santa Cruz County, a school board smeared a professor in September with accusations of anti-Semitism for their work on the first draft curriculum back in 2019. Earlier this year, a Palestinian educator in the Bay Area received e-mail death threats after pro-Israel groups blasted district officials for consulting with them on ethnic studies coursework. An August article in the Jewish Press ran a picture of a different Asian woman with the same name as a UCSC professor who has been working on a UC ethnic studies entrance requirement for years, despite internal pushback and interference in deliberations from anti-CRT and pro-Israel activists.
Media coverage of the conversation has yet to catch up with the competing forces at play. An October Los Angeles Times article omitted much of the state politics occurring in the background, questioning why the predominantly Latino Santa Ana district would wade into Israel-Palestine while paying little attention to the course's focus on world geography and the history of Latino-Arab solidarity in OC. As Montaño puts it: "You're asking us to erase a people off the face of the earth, like 'Don't even talk about these people.' That's telling us that you don't want them to exist, and that's not okay with us."
At a time when Ron DeSantis denies accusations of censorship in Florida by saying he mandates the teaching of Black history, advocates say it's not enough to just be in support of ethnic studies while setting aside global issues and actual analysis of inequality—particularly for communities as diverse as Santa Ana and nearby Little Arabia. The approach of filing lawsuits has also troubled some local Jewish activists and scholars, whose own review of the Santa Ana curriculum stands in stark contrast to that of the groups suing the district. "The fact that Israel is oppressing Palestinians is what's causing this. It is this kind of objective truth that the curriculum is reflecting," Shira Klein, a professor of history who researches anti-Semitism at Chapman University, 10 miles away from the district, told The Nation. But as she would tell J. Weekly: "To change that, we need to change the reality in Israel, not the curriculum."
In many ways, that discomfort and call to action is what ethnic studies—a field born from Bay Area college student strikes in the late 1960s—is known for. Advocates question if it makes sense for the state to take an approach that leads to shutting down more high school student conversations than it opens. Hundreds of high school students in California have already led walkouts to call for a cease-fire in Gaza. The real question may be whether parents can fathom their kids coming home ready to discuss the conflict from a different perspective. "That would make the issue more tangible, and that would make it so that more people cared," Hammad says. "Maybe they would educate themselves. Maybe they'd start saying something about it."
This school year, Santa Ana Unified said the district will be working with representatives from all stakeholders, including Jewish, Palestinian, and Muslim communities to "create and refine our curriculum." No lesson plans have been formulated. "The District itself has no political position on the Israeli-Palestinian conflict, just like the District would not take a political position on other global conflicts," Fermin Leal, a district spokesperson, wrote in an e-mail. "However, we do understand that members in our community, including our students and families, share strong opinions on issues such as these."
Now a first-year student at UC San Diego, Hammad still carries the memories of blatant Islamophobia from the Trump years alongside the jarring denial of her community's history today. "It's not apartheid," "They conquered Palestine," "It's just how the world works," she recalls being told.
It's hard for her to separate the pushback to teaching about Palestinians from the ongoing violence against Palestinians in Gaza, and she notes that having spaces for students to talk about these issues is a necessary first step. "I can't help but wonder if in 20 or 30 years, we're going to be talking about this in schools and we're gonna say, 'Wow, this was terrible that this happened. I can't believe the government did this,'" she says. "If people are not being educated on this—of course it's going to happen again."
Submit a correction

Reprints & permissions