"The reason that North Side Milwaukee looks like it looks, with abandoned buildings and a lot of vacant commercial space … A.O. Smith started doing what everybody else did. They started making those automobile frames down in Mexico," he says. "When they shut down [in Milwaukee], those jobs never got replaced."
Master Lock's announcement of its planned closure in March 2024 hit the North Side particularly hard. The company's sprawling plant has occupied a significant patch of the North Side for more than a century. Johnson said the great majority of his colleagues on the factory floor were also Black. In the decades of industrial decline in Milwaukee, Master Lock remained in the city, offering a steady income—Johnson made $17 an hour on the third shift, with almost unlimited overtime available—and solid benefits.
Today, 11 years after Obama's visit, the company continues to thrive, earning record revenue of $860 million in 2022. It still operates three shifts around the clock and employs more than 400 people. Johnson took a job there during a forced hiatus from truck driving, which he's done for decades. While he was very happy at Master Lock, he noticed two things: Parts were increasingly being shipped to Mexico, and machines that were decades old weren't being updated or replaced. Company officials have offered few details on why they will shut down the factory in 2024, despite pressure from the union and elected officials.
"They were one of the last stable employers right in the inner city, on the bus line," Johnson says. "So if you got a job there, you had no problem getting to work."
As Johnson has seen the area's economy suffer and evolve, he's also noticed a resulting political shift.
"It is not necessarily guaranteed that Democrats are going to keep getting the minority vote like they've been doing traditionally," he says. "You're starting to get a lot of African Americans looking Republican."
People in his generation latched firmly onto the Democrats.
"Because of the civil rights era in the '50s and the '60s, the Democrats won over the African American minority community for years," he says. "So out of tradition, that's what everybody did…. If they were Democrat, that's who they voted for. Well, now people are starting to pay attention to the issues and not the party."
Johnson says Milwaukee is also somewhat the victim of its own success in terms of politics and race. When he was a young adult, he dreamed of a day when Black leaders would run for political office, and win. That used to be a rarity. Today, Milwaukee is a shining example of Black political representation. The city elected Mayor Cavalier Johnson in 2022. The Milwaukee County executive, David Crowley, also is the first Black person elected to the job. The police chief, county sheriff, and superintendent of schools also are Black.
"All of the people in positions of power that we fought for back in the day to make a difference are all there now," he says. "And it hasn't changed a damn thing in the Black community. Crime ratio high, unemployment ratio high, you name it."
It should be noted that most of the Black officials have assumed their current roles only recently, without the requisite time for any policy changes to bear fruit.
Don Johnson is by no means on the Trump train. He views the former president's alleged theft of classified documents as disqualifying.
"Had it been anyone else, they'd be in prison by now," he says.
But he's lived the changes in his community, and knows Democrats have a challenge winning over his children's generation—he has a son in his thirties who works at an auto parts store and a daughter in her twenties who works at a VA hospital—as they did his.
Mandela Barnes won the Democratic nomination for the U.S. Senate in 2022, and lost in the general election to incumbent Republican Ron Johnson by just under 27,000 votes, around a 1 percentage point margin. The loss left Barnes, 37, at a crossroads, out of elected office and with plenty of options. Ultimately he chose to dig right back into the political game as president of Power to the Polls.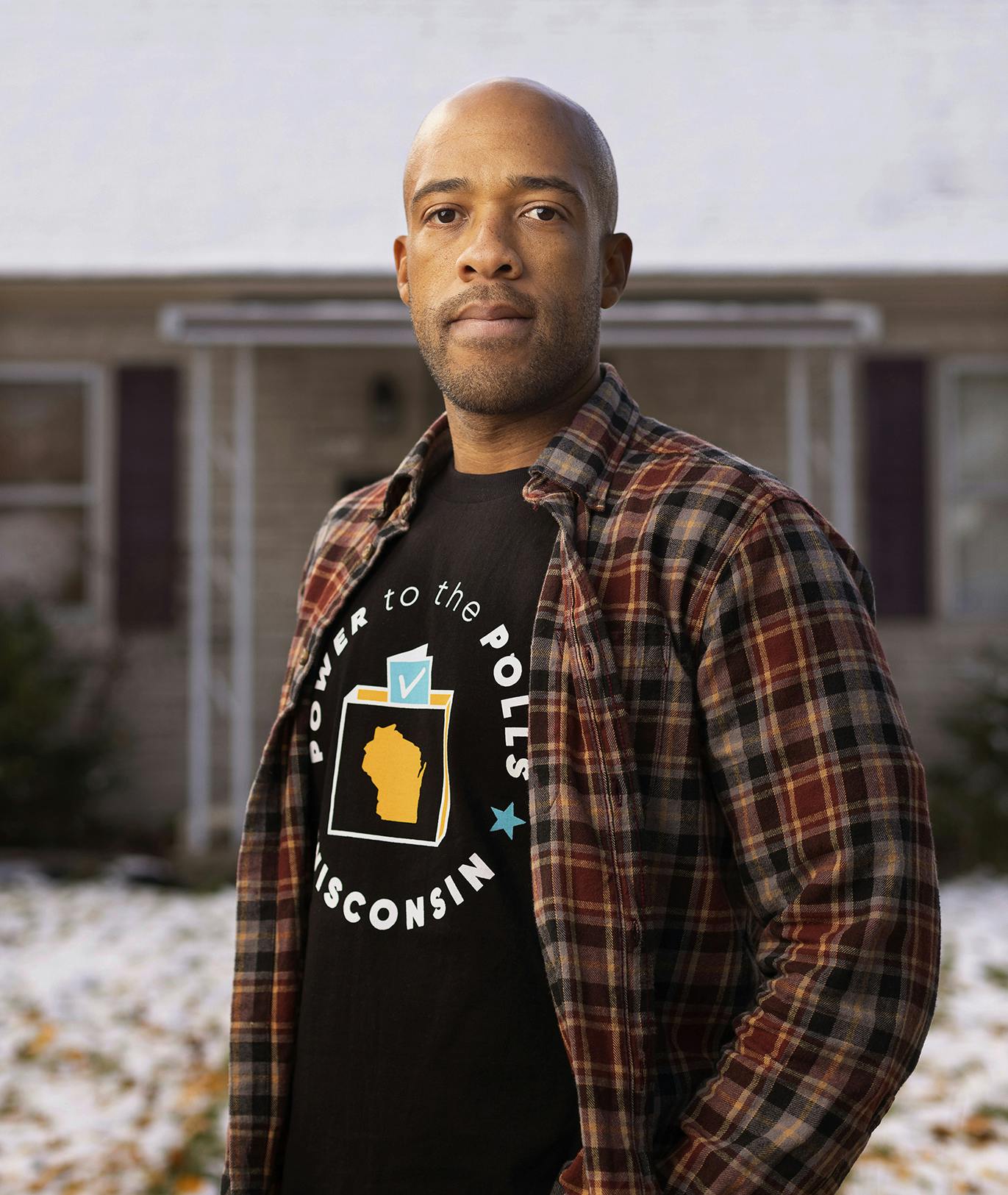 The group was successful in its outreach to Black voters during spring's state Supreme Court race, the most expensive judicial race in U.S. history, which resulted in the addition of another liberal-aligned justice, Janet Protasiewicz, to the bench. Power to the Polls had 175 ambassadors on the ground as part of a $1 million effort. Barnes says the coming general election will dwarf that, with plans for an $8 million field campaign.
Barnes says the abortion issue resonated in a big way in the group's organizing for the Supreme Court race. After the Dobbs decision, Wisconsin reverted to an 1849 law that was widely viewed as banning abortion in almost all cases. A state judge's ruling in summer 2023 cleared the way for abortions to resume in Wisconsin, but a more definitive decision on the issue will ultimately be made by the state's Supreme Court. Barnes found that the faith community, influential with Black voters, sided with abortion rights.
"[I] often hear pastors in the inner city, more than a lot of people would imagine, talking about the need for this access to exist," he says.
Power to the Polls joins an existing organizing infrastructure in Milwaukee. Angela Lang's BLOC has been around for five years. Greg Lewis's Souls to the Polls, which is affiliated with Barnes's group, has been in the field since 2013. They're different groups, but they share the goal of electing Democrats with a playbook heavy on year-round conversations and events hosted by community members.
"We don't just show up because we want to talk to you about elections," Lang says, mentioning a back-to-school event sponsored by BLOC. "And so being able to break through some of that transactional parachuting in and then leaving, people are like, 'Oh, you're still here; oh, you're still asking me about my issues. You're telling me about these things.' And I think that's been really valuable."
The message in 2024 will again be complicated by an imperfect messenger in Biden, who's dogged by questions about his age and about past verbal stumbles when he's talked about race. He once said that Black Americans "ain't Black" if they consider voting for Trump. African Americans also remember Biden's support, when he was a U.S. senator, of the 1994 crime bill. Wisconsin has the highest rate of Black incarceration in the nation, with one of every 36 Black Americans locked up, according to the Sentencing Project. Lang says Biden wasn't her first choice, but he has given her plenty to win her support for reelection. She mentions him calling out white supremacy in his inaugural address, his support of the stalled George Floyd criminal justice reform bill, his focus on reducing gun violence, and his support for abortion rights.
"He's not perfect," she says of the president. "But, in my opinion, he's a hell of a lot better than Trump."
By the 2022 midterms, Riverside University High School is a different place on Election Day. Gone are the eternal lines of the "This Is Ridiculous" election in spring 2020. It's back to being a regular polling place. A new kind of line has emerged in the gymnasium, painted in the orange-and-black school colors and with its Tiger mascot: They're first-time voters, almost all of them from one of the nearby colleges.
"We were a lot busier than we expected to be today," says the polls' chief inspector, Bill Christianson. "I would say a lot more students and people in their early twenties turned out."
Adam Elizondo is representative. While he was on break from his night shift at a submarine sandwich restaurant, his mother, Cristina, drove him to Riverside to register—the state allows same-day registration with an approved form of voter ID—and he cast his first-ever ballot before polls closed.
"I've been told from a very young age that it's important to vote," says Elizondo, a graduate of a Milwaukee public school who's now in college at University of Wisconsin-Milwaukee. "I feel like it's important. Everyone should have a say in who controls what we're doing."
In the midterms, Wisconsin led the nation in youth turnout percentage. Wikler, the state Democratic Party chair, told The New York Times that registrations for the 35-and-under crowd surged 20 percent from the 2018 midterms to the 2022 midterms. The state party targeted college campuses more aggressively starting in 2019. State Republicans have helped their cause by opposing abortion rights, marijuana legalization, and gun control, among other issues that young voters consistently rank highly.
Milwaukee is a college town, though not known as such to many outside the state; there are eight colleges within city limits and 11 in the region that host about 100,000 students. The city has a potential to play a major role in the youth surge. Lewis's Souls to the Polls plans to hire an ambassador just for college campuses. The organizer will focus on Milwaukee Area Technical College, whose 28,000 students are more representative of the city's demographics than other colleges, both racially and economically.
"The young people vote is critical," Lewis says. "In this upcoming election, you know, we've got to make it our business to really go after that vote."
Winning the youth vote, and matching or exceeding the numbers of the 2022 midterms, could be critical. Or will it be a resurgence among Black voters that proves decisive? Or something else? A year out from a critical election when democracy itself again will be on the ballot, the questions far outnumber the answers in the state with a little bit of everything, and where every election is a game of inches.